Step aside Google Slides—Beautiful.ai is the future of deck-making.
The one burning question I got after presenting to over 1000 designers internationally: What did you use to make that presentation?
As you may have read in my last blogpost, I recently presented one of my portfolio projects live with the AIGA Design Festival Event as one of three student panelists.
LIVE Portfolio Review with Beautiful.ai presentation
The truth is, although it looks like I spent hours upon hours animating and getting my presentation together, I didn't focus on doing any of that, because the presentation creator that I used completely automated the animation process of elements in my slides. Not only did this presentation make my all-nighter in creating this presentation less gruesome—it allowed me to actually focus on what I wanted to communicate, the storytelling and layout of every page, as well as gathering visuals that I needed to represent my topic.
Not convinced that Beautiful.ai is the tool that you should invest in? Keep scrolling.
Beautiful.ai is not only capable of automated animation building, it has additional elements that enable others to create cohesive, visually engaging, and beautifully made presentations with just a few clicks. Here are a list of my favorite reasons why Beautiful.ai is ultimately a game changer.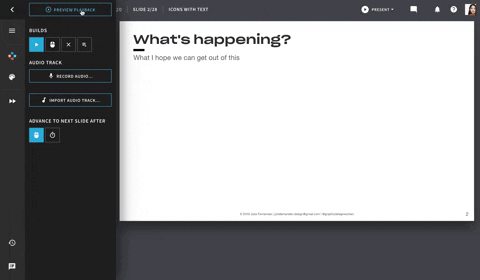 Animating Options
Animations are easily customizable (and optional)
If you're like me, animations are the last thing that I want to worry about when presenting my deck. However, I am a stickler for details and want to make sure that my content is displayed beautifully. With beautiful.ai's animation tab, you're able to reorganize the order in which elements appear, and change the animation styles with a click of a button.
There is a wide array of specific template types—this includes data visualization like timelines, graphs, and even word maps
One of the reasons why Beautiful.ai creates a new level of sophistication with its templates is the pre-made and pre-animated customizable slides that every person can use to "wow" their viewers.
What if I told you there was a hack in being able to add your mock-ups onto your deck without having to go through Adobe After Effects, Adobe Premiere, or Adobe Photoshop and having to find clean mock-ups of devices?
That's right. You can choose any device and literally insert the image that you would like to showcase in your slides. They did the work for you so that you can focus on yours.
You are able to create master changes to your themes
Have you ever wished you could get previews of master spread colors, character styles, or even just want to experiment which look would go best with your presentation? Wish no more, for it is all here.
There are a library of ~free~ visual elements to choose from
No more wasting time finding vector packs of cohesive icons AND IMAGES to use for your presentation—everything you need is already in the Beautiful.ai toolbox.
You can easily embed your presentations to any site, just like this:
Easy-peasy lemon-squeezy.
I hope that you're convinced, and if so, click here to view the beautiful.ai website and see if you'd like to invest in your design. You are able to have a free account with limited capabilities, so I'm curious about what you all think? Comment down below if you've signed up for beautiful.ai and let me know whether or not you think this is going to take over presentation deck culture!
With Gratitude,
Julia